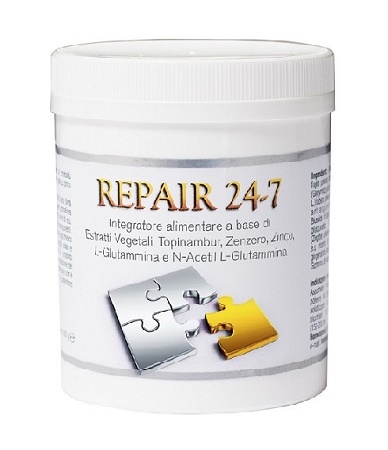 Prezzo:
€ 22,00 IVA 10% incl.
REPAIR 24-7
Integratore alimentare a base di
Estratti Vegetali Topinambur, Zenzero, Zinco,
L-Glutammina e N-Acetil L-Glutammina
La L-Glutammina è un amminoacido importante per il nostro organismo.
L'N-Acetil L-Glutammina è la versione acetilata della L-Glutammina che larende molto più stabile e biodisponibile per l'organismo.
Gli estratti vegetali di Malva e Aloe favoriscono la regolarità del transitointestinale ed un'azione emolliente e lenitiva per il sistema digerente.
La Liquirizia favorisce la funzionalità del sistema digerente.
Lo Zinco contribuisce alla normale funzione del sistema immunitario.
Ingredienti
L-Glutammina, N-Acetil L-Glutammina, estratti vegetali di Malva (
Malvasylvestris
), Aloe (
Aloe barbadensis
), Liquirizia (
Glycyrrhiza glabra
),Topinambur, Zenzero, Zinco.
Contenuti Medi
Per dose (4 g)
L-Glutammina
3300 mg
N-AcetilL-Glutammina
Di cui L-Glutammina
200 mg
155,32 mg
Malva polvere
100 mg
Aloe liofilizzata
100 mg
Liquirizia estratto secco
100 mg
Topinambur polvere
70 mg
Zinco
5 mg (50 *%VNR)
Zenzeroestratto secco
Di cui gingeroli totali
20 mg
0,2 mg
Addensante
Gomma di xanthan
Antiagglomeranti
Biossido di silicio, Zincogluconato
Avvertenze
Non eccedere la dose giornaliera consigliata. Tenere fuori dalla portata dei bambini dietà inferiore ai 3 anni. Gli integratori alimentari non vanno intesi comesostituti di una dieta variata e di uno stile di vita sano. Per donne in gravidanza e inallattamento, sentire il parere del medico.
Formato
Vasetto da 100 g
Cod.
REP24
Fonti bibliografiche
Akisu M, Baka M, Huseyinov A, Kultursay N. The role of dietary supplementation withL-glutamine in inflammatory mediator release and intestinal injury inhypoxia/reoxygenation-induced experimental necrotizing enterocolitis. Ann Nutr Metab.2003;47(6):262-6.
Hall JC, Heel K, McCauley R. Glutamine. Br J Surg. 1996 Mar;83(3):305-12.
de Souza AZ, Zambom AZ, Abboud KY, Reis SK, Tannihão F, Guadagnini D, Saad MJ,Prada PO. Oral supplementation with L- glutamine alters gut microbiota of obese andoverweight adults: A pilot study. Nutrition. 2015 Jun;31(6):884-9. doi:10.1016/j.nut.2015.01.004. Epub 2015 Jan 29.
Calder PC, Yaqoob P. Glutamine and the immune system. Amino Acids. 1999;17(3):227-41.
Legault Z, Bagnall N, Kimmerly DS. The Influence of Oral L-Glutamine Supplementation onMuscle Strength Recovery and Soreness Following Unilateral Knee Extension EccentricExercise. Int J Sport Nutr Exerc Metab. 2015 Oct;25(5):417-26. doi:10.1123/ijsnem.2014-0209. Epub 2015 Mar 26.
Zhuk EA, Zelenkov VN. [Topinambur concentrate in the treatment of patients withinsulin-dependent diabetes mellitus]. Vopr Pitan. 1997;(6):34-6.
Sjogren A, Floren CH, Nilsson A. Evaluation of zinc status in subjects with Crohn'sdisease. J Am Coll Nutr. 1988;7:57– 60 Van de Wal Y, Van der Sluys Veer A,Verspaget HW, et al. Effect of zinc therapy on natural killer cell activity ininflammatory bowel disease. Aliment Pharmacol Ther. 1993;7:281–286 22 Mulder TP,van der Sluys Veer A, Verspaget HW, et al. Effect of oral zinc supplementation onmetallothionein and superoxide dismutase concentrations in patients with inflammatorybowel disease. J Gastroenterol Hepatol. 1994;9:472–477 Dronfield MW, Malone JD,Langman MJ. Zinc in ulcerative colitis: a therapeutic trial and report on plasma levels.
Gut.1977;18:33–36 S Roy, A Tomkins, S Akramuzzaman, R Behrens, R Haider, DMahalanabis, and G Fuchs Randomised controlled trial of zinc supplementation inmalnourished Bangladeshi children with acute diarrhoea. Arch Dis Child. 1997 Sep; 77(3):196–200. PMCID: PMC1717301
Potrebbero interessarti anche…